Advantages:
Bozhong 690CR is a 690 MPa (100 ksi) yield strength quenched and tempered steel adapted for legs of offshore jack-up platforms.
Specially designed grades
This grade has been specially designed for offshore applications requiring the use of heavy thick plates (up to 210 mm/8.3″) with demanding mechanical properties requirements.
Adapted chemical composition
The chemical composition of Bozhong 690 CR has been carefully adapted and allows the achievement of high impact values (> 50 J at – 60°C) across the thickness while respecting the tensile properties required.
Cost efficiency of manufacturing
The very low carbon content of this material allows cutting and welding under classical conditions, increasing in this way the cost efficiency of manufacturing.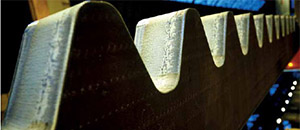 INDUSTEEL TRADEMARKS




STANDARDS




Bozhong690Cr




>>DNV NVF 690 / grade F
>>ASTM A 514 Grades B, E, F, H, Q / ASTM A 517 Grade Q
>>ABS FH 40299



Typical Applications:
The main application of Bozhong 690CR being the manufacturing of racks and chords, particular attention has been paid on forming, oxycutting and welding properties. Industeel produces welded elements for jack-up legs manufacture. These elements are assembled from cut racks and hot pressed chords welded on both sides of each racks.
Examples of Applications